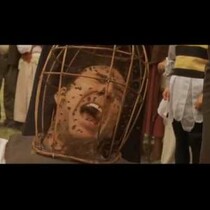 Posted March 10th, 2014 @ 4:12pm
I've brought up "bee-related" stories more than a few times on the program, and that's simply because they're never not interesting.
Whether it's a new strain of killer bee, a bee shortage, or a bee beard convention...the subject always gives me the excuse to use this audio:
From CBS Los Angeles:
"Two drivers were stung by more than 600 bees following a two-vehicle car crash into a tree Sunday afternoon in La Canada Flintridge.
At least one of the vehicles struck a tree in the 2000 block of Los Amigos Street just before 3 p.m. dislodging a large bee hive.
The two women drivers involved in the tw0-vehicle crash were stung at least 600 times between them.
CBS2′s Bobby Kaple reported that there were many scary moments for residents of the area as well as the people involved in the car accident.
Hours later, Kaple said there were still many bees in the area.
"We got out of our truck to shoot some video when the bees started circling us," he reported nearly two hours after the swarm first formed.
Just before 3 p.m., two cars collided in a minor accident. After the hive was dislodged, thousands of bees dispersed."