Rescuers Drugged Thailand Soccer Players For Risky Rescue Operation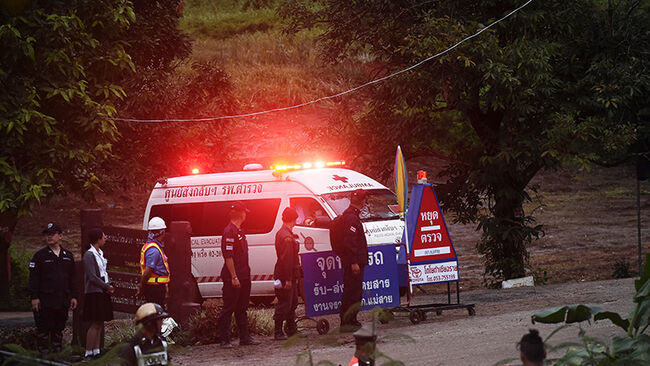 A new book has revealed shocking details about the rescue operation to save 12 members of a youth soccer team and their head coach after they became trapped in a flooded cave in Thailand. Leading up to the rescue, officials told the children's parents and the press that Navy divers were teaching the young boys how to dive in preparation for the daring operation.
According to the Daily Mail, investigative reporter Liam Cochran learned that officials did not train the boys how to dive, and had no plans to do so. Instead, he claims in his new book, The Cave, that officials knew the only way to have any chance of saving the boys was to drug them so the divers could pull them through the treacherous mud-filled caves.
Authorities knew that time was running out to stage a rescue because heavy rains were in the forecast, which would flood the cave further and make any rescue operation impossible. With time running out, they knew that they could not prepare the boys for the three-hour dive in such a short period of time. Instead, they made the decision to sedate the boys using a three-drug cocktail. The boys would then be handcuffed and strapped to the divers, who would have to re-administer the drugs during the journey to the surface.
Dr. Richard Harris, who helped devise plan, said that he was unsure whether it would work, and before agreeing to help asked for immunity in case anything went wrong.
Officials knew that their plan was dangerous, and could result in some of the boys dying but they also knew they had to take the risk because if they did nothing, everybody trapped in the cave would have died.
Miraculously, all the boys and their coach survived the risky rescue operation and were reunited with their families.
Photo: Getty Images