A frenziedBenjamin Netanyahusounded the alarm about high voter turnout among Arab-Israelis and the left, calling an emergency party meeting and urging his right-wing supporters to cast their ballots, as he fought to cling on to power in an unprecedented second election. 
Falling back on a tried-and-tested election tack, the embattled prime minister warned his support base that they faced the prospect of an Arab-controlled government if they did not heed his call to vote.
Tuesday marked the second time in less than six months that Israelis have gone to a general election after Mr Netanyahu failed to form a government following a vote in April. 
The country's central elections commission said that an early voter count showed turnout on Tuesday was the highest it has been in three decades, Israeli media reported.
But Mr Netanyahu, who is campaigning under the shadow of indictment in three corruption cases, warned crowds that it was not right-wingers making up the numbers.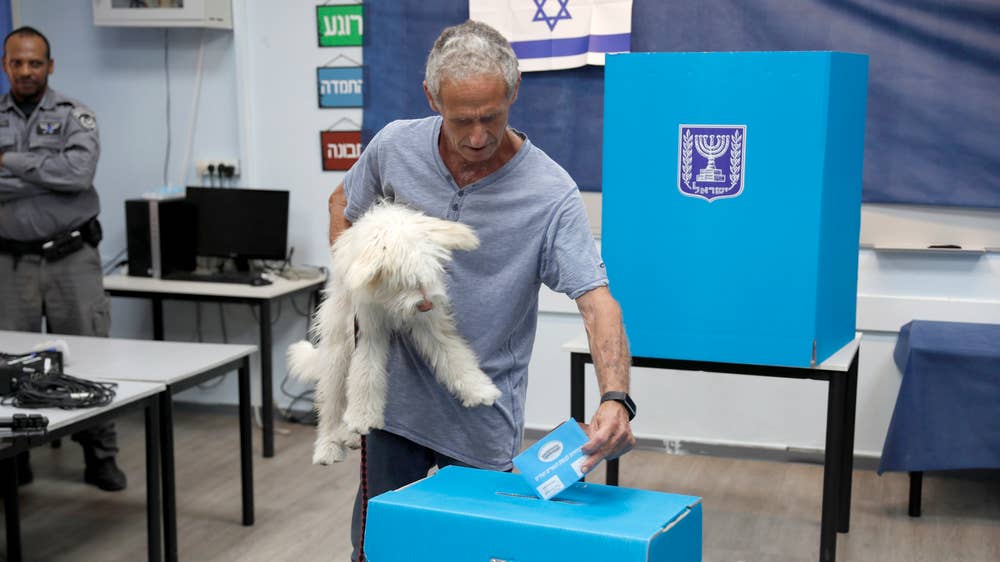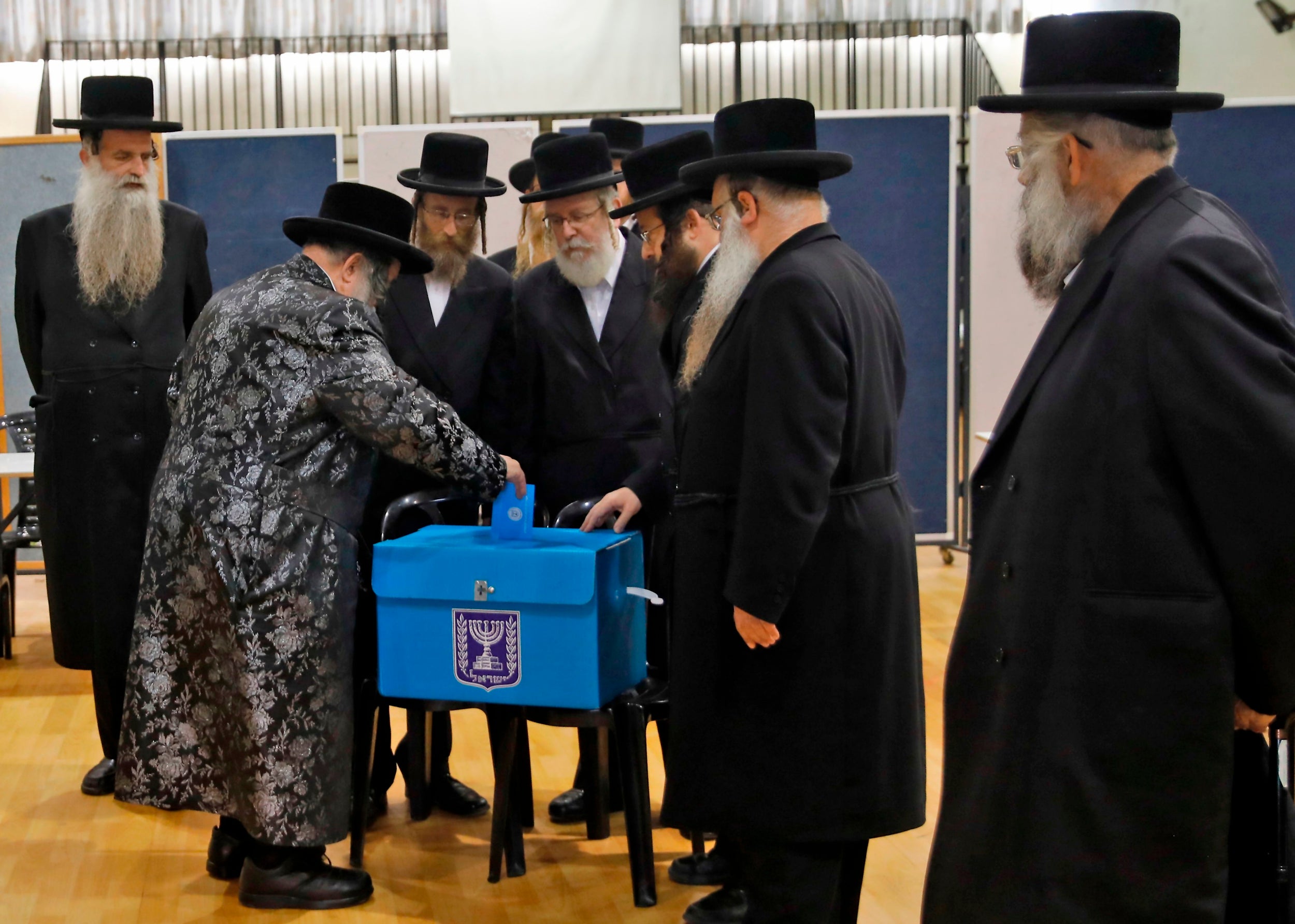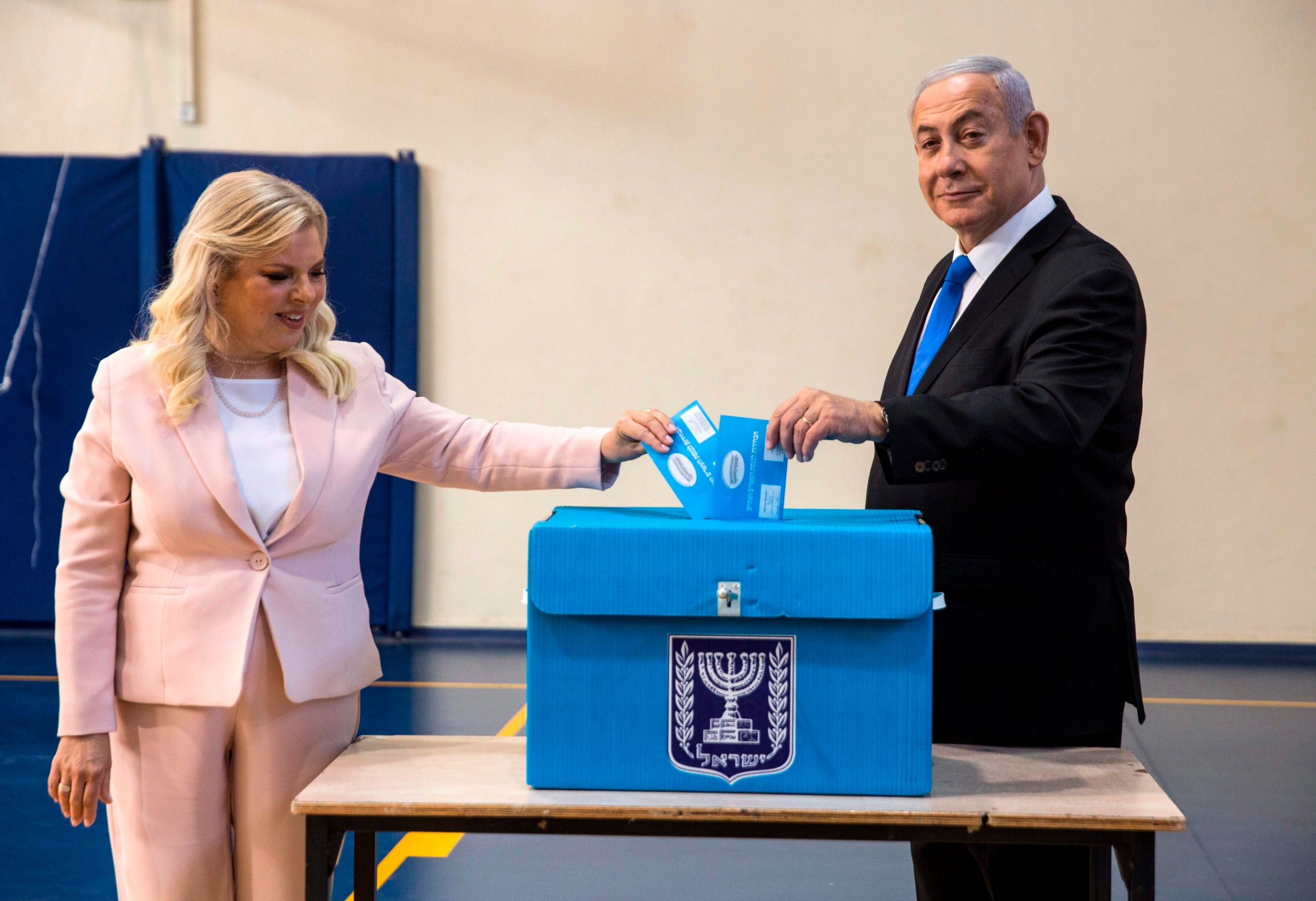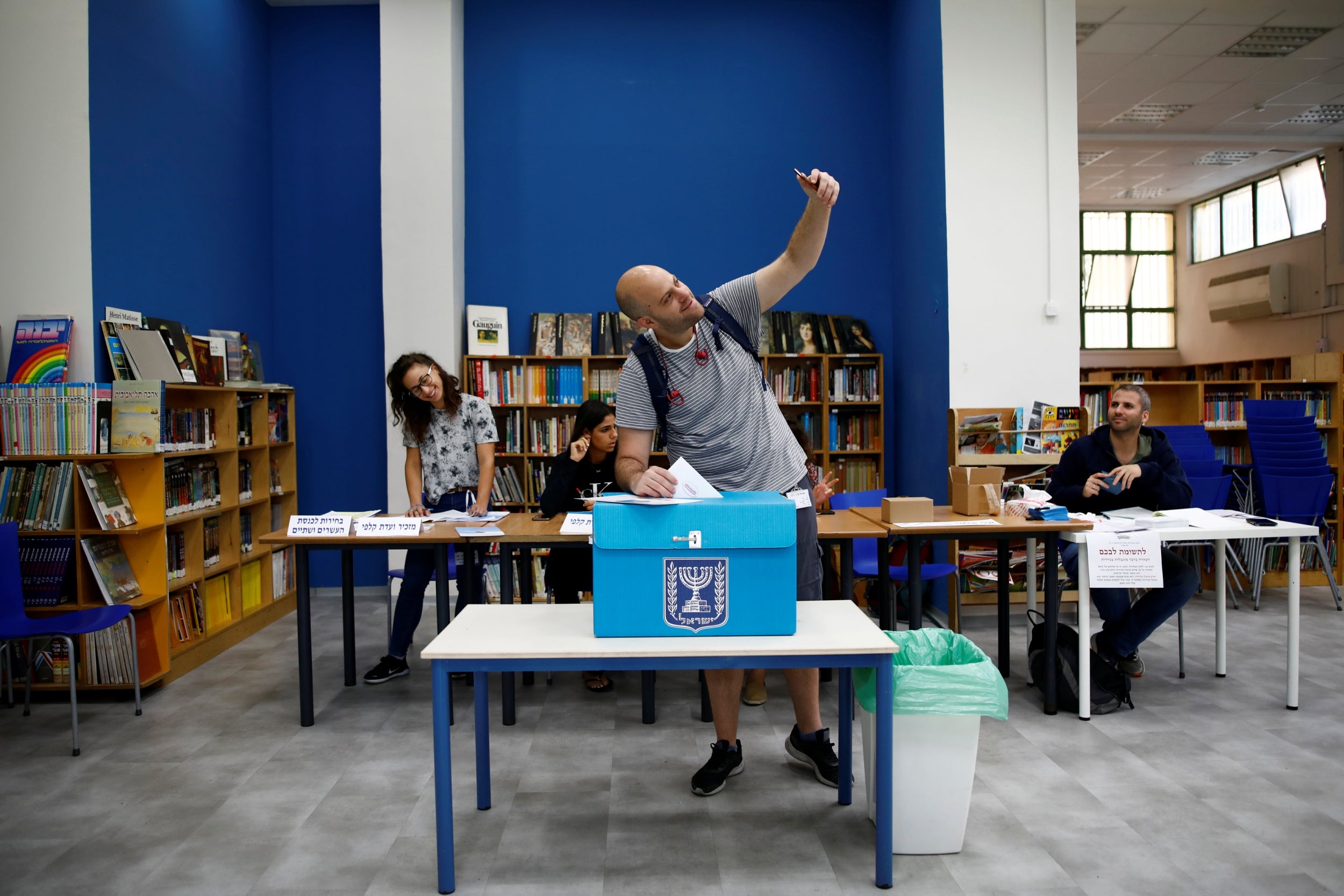 "The media is reporting that there's a record voter turnout among the Left, and a low voter turnout among right-wing voters," he said to a crowd gathered at Jerusalem's central bus station, 
"[The media] says the percentage of voters is surprising. It's high among the Arab population. It's not surprising. The Palestinian Authority is coming out with an official statement and I quote, 'go out to vote and bring down Netanyahu'".
His chief rival Benny Gantz, the country's ex-army chief and leader of centrist alliance Blue and White, issued similar warnings saying that voting percentages were low in Blue and White voting areas. He ordered his teams to increase "motivation efforts in the field". 
Mr Gantz is also potentially facing legal action. On Tuesday, as voting was underway, a Dutch court considered a request to hear a civil suit seeking damages from the former general over his role in a 2014 airstrike on a Gaza house that killed six family members of a Dutch-Palestinian man.
The elections authorities have deployed at least 3,000 monitors, some armed with body cameras, to the polling stations to combat any voting irregularity in the fraught election, in which over six million eligible voters are able to cast their ballot.
However, opinion polls showed once again there may not be a decisive victor, prompting fears of a third election on the horizon. 
Israeli President Reuven Rivlin vowed to prevent that scenario happening saying "I will do everything I can to get an elected government in Israel as soon as possible and to avoid another election campaign," before voting in Jerusalem.
At the polling stations, voters from both the Left and Right, told The Independent that while they expected Likud and Mr Netanyahu to ultimately win, many had lost confidence in the prime minister over his inability to form a coalition government back in April. 
"It might be the end of Netanyahu, it feels like he might be holding the party back. He seems to be the sticking point in negotiations with other parties," said Daniel Katz, 33, a software developer voting for the ultra-orthadox party United Judaism Torah in Jerusalem. UTJ and the other major ultra-orthodox party Shas have pledged to join a coalition headed by Mr Netanyahu. 
Adel Melois, 18, a first-time voter who decided to cast her ballot for Jewish Power, a hard-right party, agreed. Jewish Power is also expected to be in a Likud-led coalition. 
"Netanyahu was good for the last few years but there are a lot of things, including the security of the country, that he could have looked after better. We need new ideas for the Right," she said. 
In Tel Aviv, Israel's commercial capital where many voters traditionally vote centre or left-wing, there were equal signs of frustration with the prime minister, but over the possible corruption cases against him. 
"The most important thing is to switch out the King," said Iftah Gorali, a Blue and White voter, referencing Mr Netanyahu's nickname King Bibi. ​
"The King is stuck in his place, we need to get rid of him, and our best chance is through Blue and White.... The corruption is just growing. We have an entire country that most of the time is dealing with the prime minister's personal problems. Why?" he asked. 
The last polls published over the weekend by Israeli TV Channel 11 and 12 showed Mr Netanyahu neck and neck with chief rival Mr Gantz, with both their parties securing around 32 seats. They also predicted neither Mr Netanyahu's right-wing block nor Mr Gantz's centre-left allies will be able to secure enough seats together to win the overall 61 seat majority needed to form a ruling government. 
Commentators accused Mr Netanyahu, of "throwing everything but the kitchen sink" at the elections in his last-ditch attempt to secure a historic fifth term in office. His critics say he needs to stay in power as a shield against possible legal action in the future. 
He launched a flurry of media interviews in the lead up to the polls, including possibly  breaking elections rules by giving an interview to a local radio station on the day of the vote.
BennyGantzvoting in a RoshHa'Ayinpolling station, central Israel, together with his wifeRevital(Blue and White Party handout)
Just hours before polling stations opened, Mr Netanyahu also vowed to annex "all the settlements" in the occupied West Bank, including an enclave deep in the heart of the largest Palestinian city: a move illegal under international law and sure to ignite conflict with the Palestinians and possibly the rest of the region if implemented. 
It followed comments made a few days earlier where he vowed to immediatelyannex the Jordan Valley and the Dead Sea area, which makes up just over 22 per cent of the West Bank, if re-elected.
He also arranged a meeting with President Donald Trump to mull the idea of a mutual defence treaty just ahead of the elections. Before that he met with Russian President Vladimir Putin in Sochi, again part of a campaign to remind the public of his unique relationship with foreign leaders, and his diplomatic skills. 
Israeli media also reported the prime minister came within a hair's breadth of starting a military offensive in Gaza after he was embarrassingly forced to flee the stage in a campaign rally in the southern city of Ashdod on Wednesday, when militants from Gaza fired at the city.
While the polls were bleak, the prime minister's supporters remained confident that Mr Netanyahu and his rightwing Likud party would still win.
"There is no way that Likud won't be in the ruling coalition, we are going win," said Netta, 24, head of the Likud student faction at Hebrew University at a rally in Jerusalem on Monday. 
"There isn't anyone who comes close to Netanyahu."
Raphel Ohyon, 66, a driving test instructor, agreed adding that Benny Gantz had "little to no experience" in politics.
The snap elections were called just months after the previous elections in the spring when Mr Netanyahu failed to form a ruling coalition, after his one-time ally and former defence minister Avigdor Lieberman and his right-wing party Yisrael Beiteinu refused to join forces at the 11th hour.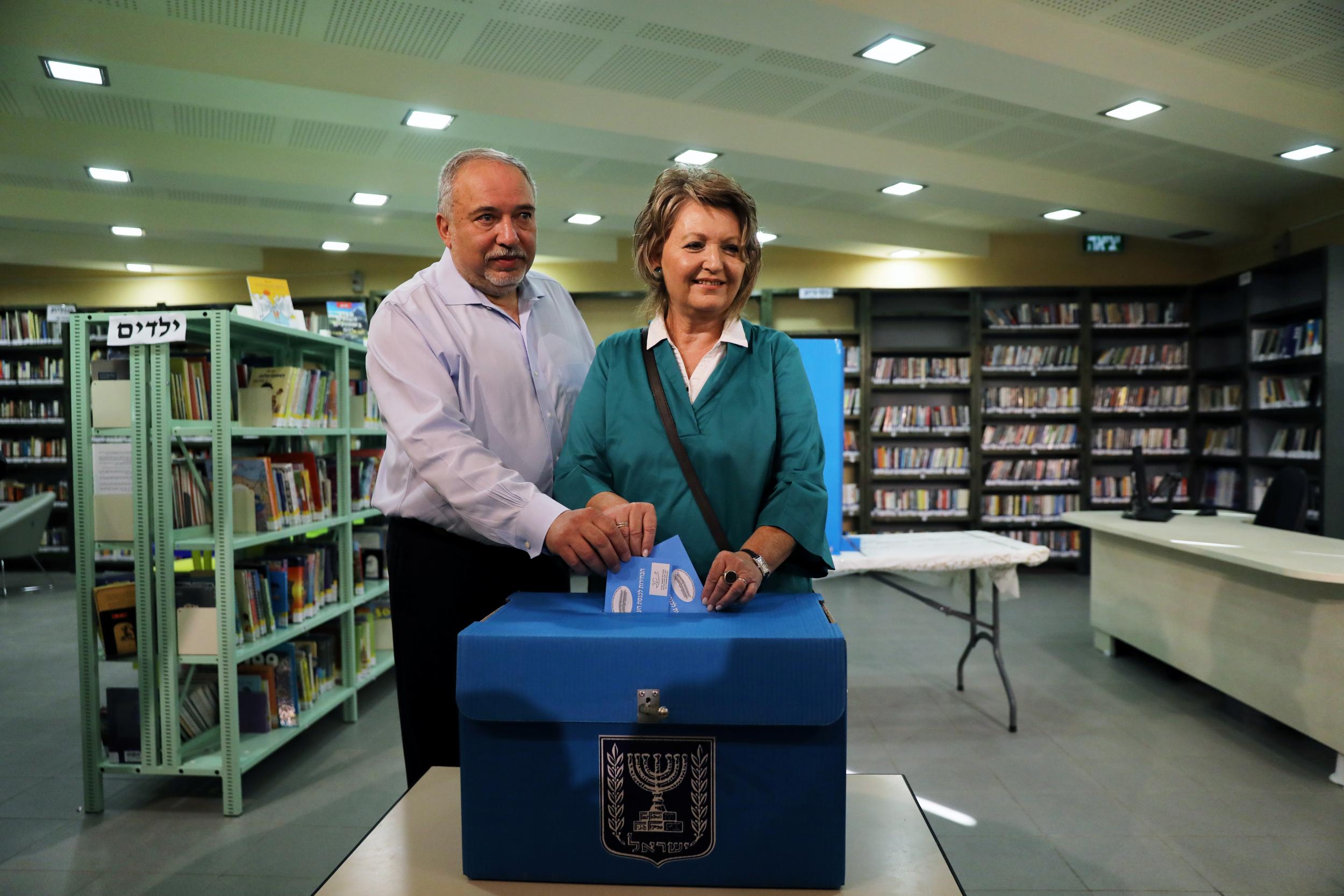 AvigdorLieberman, leader ofYisraelBeitenuparty, casts his ballot in Israel's parliamentary election, along with his wife Ella at a polling station in the Israeli settlement ofNokdimin the occupied West Bank (REUTERS/AmmarAwad)
Rather than allow Israeli President Reuven Rivlin to give another political leader the chance to build a ruling coalition, Mr Netanyahu's Likud party and its supporters voted to go back to the polls.
Prominent pollsters warned that there was a chance Mr Netanyahu might fail to build a government again, given so many centre-left parties have vowed not to join forces with Mr Netanyahu because of his likely indictment on graft charges.
Mr Lieberman, whose party is polling at nine seats and could play kingmaker again, has also nominally promised to form a coalition with Mr Netanyahu's rivals Blue and White.  
If no majority bloc is formed it could mean a third Israeli election. 
"Netanyahu will have to make serious compromises," said Dahlia Scheindlin, a public opinion expert who has worked on seven election campaigns in Israel.  
"Someone will have to give up their promises to get the ladder and climb down from the tree. Most of the Left-wing, parties like Labour have made it clear they will not form a government with Netanyahu," she added.