With Wall Street expecting the first double-digit payrolls report since May, largely as a result of over 40K GM jobs not accounted for due to the strike, and with some whispers even hinting at a negative print, moments ago the BLS surprised once again, reporting that in October,the US added 128K jobs, a huge beat to the 85K expected, with the September payrolls report revised sharply higher to 180K from 136K.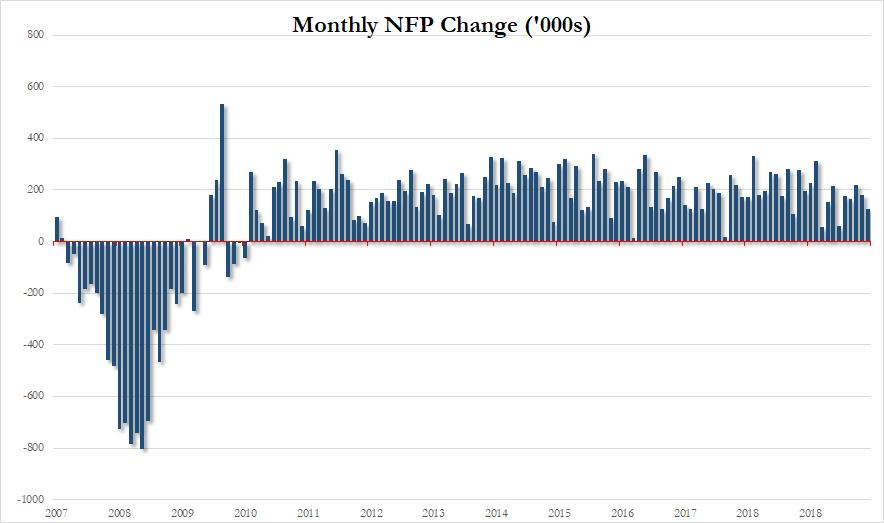 The change in total nonfarm payroll employment for August was revised up by 51,000 from +168,000 to +219,000, and the change for September was revised up by 44,000 from +136,000 to +180,000.With these revisions, employment gains in August and September combined were 95,000 more than previously reported. After revisions, job gains have averaged 176,000 over the last 3 months.
The report includes a strike-driven 41,600 decline in automaker payrolls and 20,000 temporary census workers leaving their jobs.The result of the strike led to a 36K drop in manufacturing jobs, the biggest drop since 2009, although a similar rebound is expected next month now that the GM strike is over.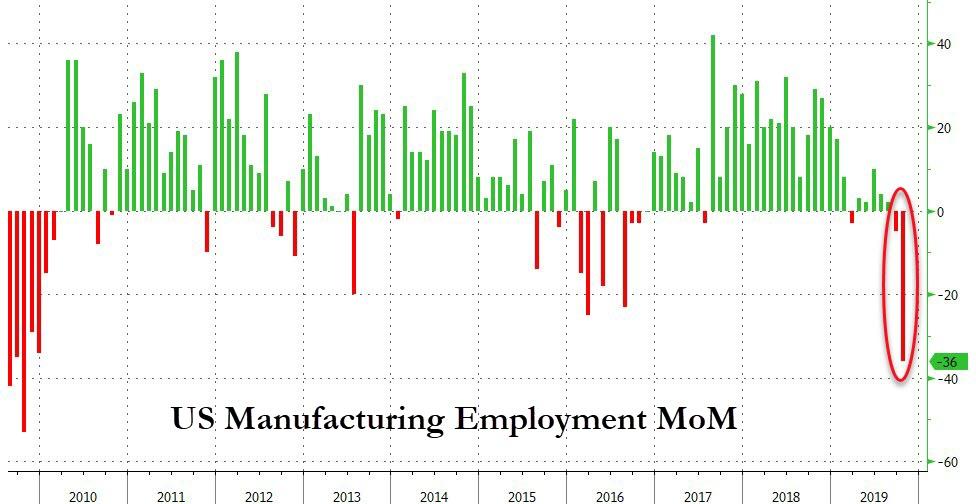 The unemployment rate rose modestly to 3.6% from a half-century low of 3.5%, and in line with expectations,while the unemployment rate for blacks dropped to a fresh all time lows.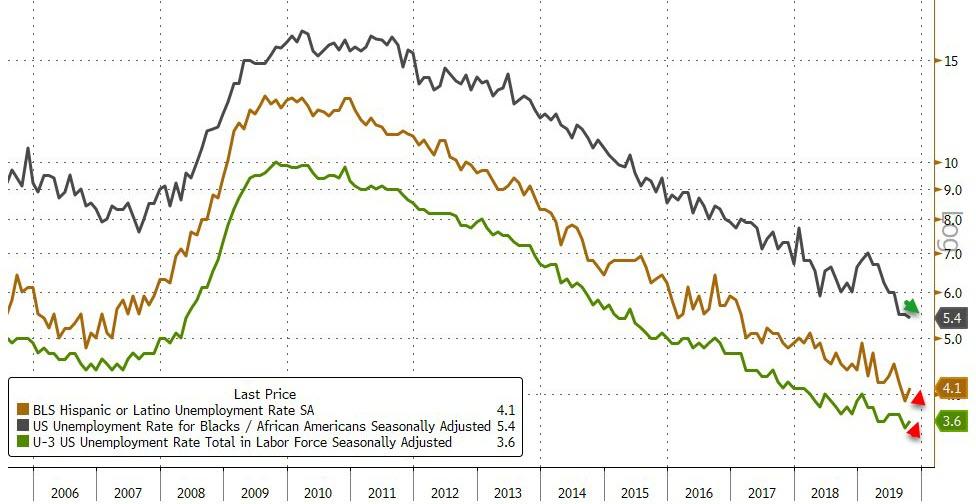 The participation rate, or share of working-age people in the labor force, increased to 63.3% as more Americans reentered the workforce. The U-6 underemployment rate ticked up to 7% from the lowest since 2000; this number reflects part-time workers who'd prefer a full-time position and those who aren't actively looking.
The GM strike may also have hit wages in October: average hourly earnings climbed 3% from a year earlier, matching projections after an upward revision the prior month, though the 0.2% monthly gain was below the 0.3% estimate.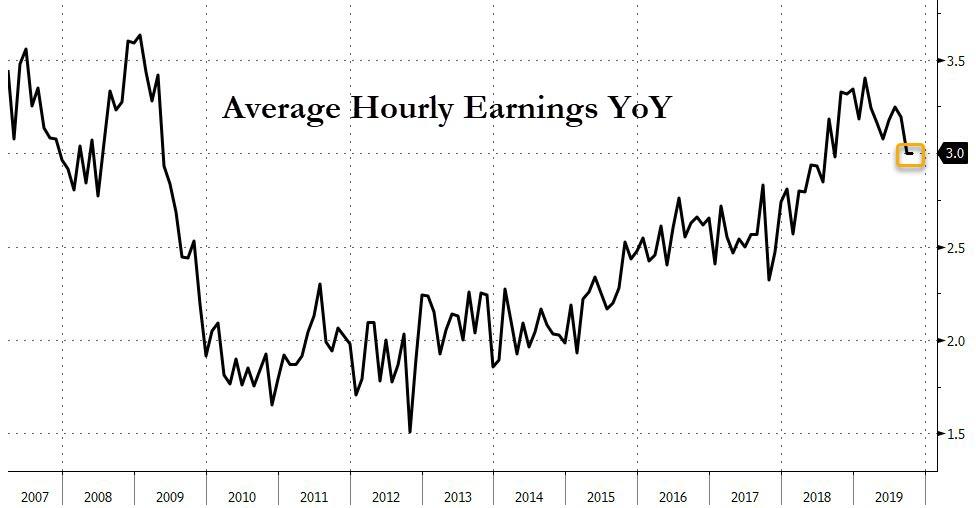 Unlike prior months, there was no hours worked gimmick, as the average workweek for all employees on private nonfarm payrolls was unchanged at 34.4 hours in October, as expected. In manufacturing, the average workweek decreased by 0.2 hour to 40.3 hours, while overtime was unchanged at 3.2 hours. The average workweek of private-sector production and nonsupervisory employees held at 33.6 hours.
The unexpectedly strong report validates the Fed's description of the job market as "strong" and validates Powell's signal that the Fed will pause after its third interest-rate cut. While businesses have been pulling back on fixed investment as yesterday's GDP print showed, continued solid gains in hiring and wages will help drive growth and support President Donald Trump's bid for re-election in 2020.
As has been the case for much of the past decade, job gains were led by low-wage jobs in leisure and hospitality, education and health services and professional and business services. Construction and finance also posted modest gains.Even retail jobs rose, registering back-to-back gains for the first time in more than a year following seven straight declines.
A breakdown of jobs per the BLS:
In October, food services and drinking places added 48,000 jobs.
Employment in social assistance increased by 20,000 in October and by 139,000 over the last 12 months.
Employment in financial activities rose by 16,000, with gains in real estate and rental and leasing (+10,000) and in credit intermediation and related activities (+6,000). Financial activities has added 108,000 jobs over the last 12 months.
Employment in professional and business services continued to trend up in October (+22,000).
Health care employment continued on an upward trend in October (+15,000). Health care has added 402,000 jobs over the last 12 months.
Manufacturing employment decreased by 36,000 in October. Within manufacturing, employment in motor vehicles and parts declined by 42,000, reflecting strike activity.
Federal government employment was down by 17,000 over the month, as 20,000 temporary workers who had been preparing for the 2020 Census completed their work.
In response, Treasury yields, the dollar and S&P futures all spiked as December rate cut odds slumped, amid renewed speculation that the economy is once again on an stronger footing.