Minneapolis Mayor Jacob Frey announced a citywide curfew will go into effect on Thursday following a night of unrest and looting in the city.
The announcement came after two fatal shootings on Wednesday that drew large crowds downtown and resulted in property damage and potential shoplifting, authorities said.
The first came on Wednesday afternoon, when one man shot another man. Later that evening, the suspected gunman fatally shot himself as police approached him. His suicide sparked false rumors that officers had killed him, which police said caused "significant public safety concerns."
The turmoil prompted Minnesota Gov. Tim Walz to declare a state of emergency in the city. He also deployed the National Guard and mobilized at least 150 state troopers.
From simple camping trips to coast-to-coast explorations, the rentable fleet of 100,000 RVs means you can have outdoor adventures without risking you and your loved ones' health.
Additionally, Frey instituted an overnight curfew that expired at 6 a.m. Thursday.
"We recognize that none of this happens in a vacuum," Frey said during a news conference on Thursday. "And it is righteous to vent that pain and anguish in the form of peaceful protest. But what happened last night was neither peaceful nor was it a form of protest that moves us forward."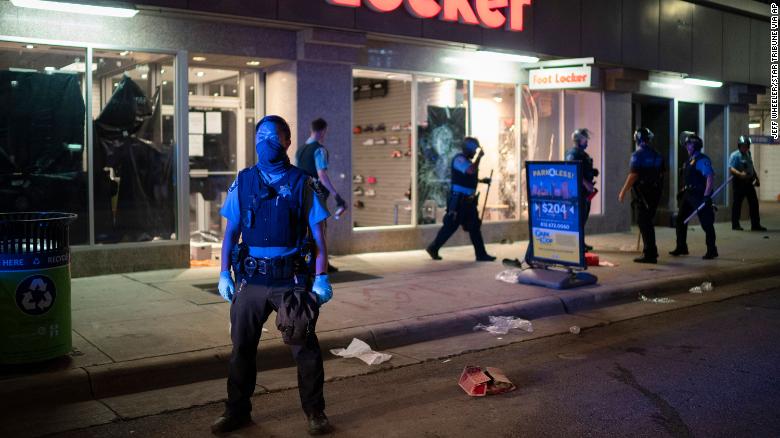 Minneapolis Police stand outside a looted Foot Locker store on Wednesday, August 26.
Approximately 50 people were arrested for rioting and burglary -- and two officers were injured -- on Wednesday night, Minneapolis Police Chief Medaria Arradondo said at a briefing on Thursday.
The unrest comes on the heels of demonstrations in the US overthe shooting of Jacob Blakeby Kenosha, Wisconsin, police. It also comes just three months after the killing of George Floyd in Minneapolisignited a worldwide outcryagainst police violence and systemic racism.
"The pain that people are feeling is real," Walz said at a news conference on Wednesday.
"The situation that was sparked again and reminds all of us of watching that eight-and-a-half minutes of George Floyd's death, those are real," Walz said. "Those are real emotions that are out there. But to come together and fix those issues, they're not going to be fixed with violence or looting Target."