Then-presidential candidate Bernie Sanders speaks at a campaign stop at Solano Community College in June 2016. Sanders' campaign plank of free college tuition is being picked up by many Democrats, including two California legislators who plan to propose that the state pay for two years of community college tuition for full-time students.
California community college students could reap the benefits of Democratic dominance in the state Legislature, with lawmakers pushing for the state to cover the cost of two years of tuition for students who commit to enrolling full time right out of high school.
Democratic lawmakers across the country have made affordability at public colleges and universities a rallying cry, with free tuition programs popping up at the state and local levels. During the 2018 midterms, the free-college mantra of Vermont independent Sen. Bernie Sanders became a key campaign promise for liberal candidates in congressional and state races. Gov.-elect Gavin Newsom pledged during his own campaign to make the first two years of community college free in California, as did some of his Democratic challengers.
"This is about strengthening the middle class," said Assemblyman Miguel Santiago, D-Los Angeles, who partnered with Assemblymen David Chiu, D-San Francisco, and Kevin McCarty, D-Sacramento, to pass a bill last year making the first year of community college free for full-time freshmen. Democrats were solidly behind AB19 — all the "no" votes came from Republicans, who will be even more badly outnumbered next year and unable to block anything, including the Democratic legislators' new measure.
Their AB2, introduced this month, would waive tuition for the second year as long as a student takes a full course load each semester and remains continuously enrolled. Santiago said that requirement will get students to an associate's degree or certificate program quicker and improve the pipeline between community colleges and the state's public university systems.
The two-year savings for a student taking 12 units a semester would be $2,208. That could mean the difference between having to take out more loans or pick up extra hours at a job. But it also costs taxpayers millions a year: Click here to read about that and the rest of the story.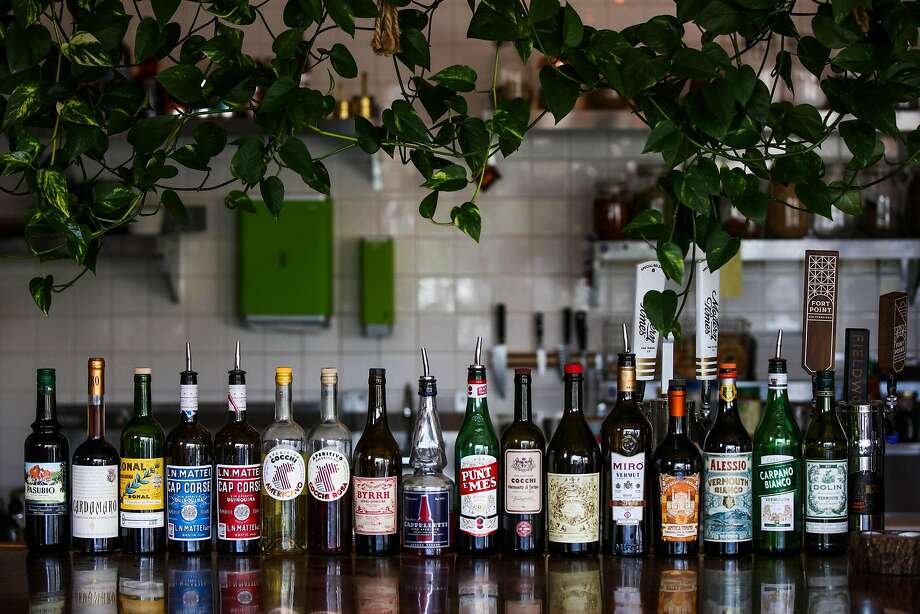 Bottles of alcohol line the bar at Orsons Belly cafe in San Francisco on July 4.
•Drink till 4 a.m.: State Sen. Scott Wiener is going to take a third try at allowing San Francisco, Oakland and several other cities to set rules for nightlife businesses to serve alcohol until 4 a.m., two hours later than under current law.
•Keeping hope alive: More than 12,000 people paid their way into San Jose's SAP Center to have former first lady Michelle Obama apply a kind of balm. "The crowd was with her because it needed the comfort of not being against, not having to resist," Namwali Serpell reports.
•Striking out: Bruce Maxwell, onetime catcher for the Oakland A's, was the only Major League Baseball player to emulate Colin Kaepernick by taking a knee during the National Anthem. Now he has something else in common with the ex-49ers quarterback, Susan Slusser reports: He can't find a job.
•Arrests on ICE: Arrests of undocumented immigrants are up in most parts of the country under President Trump, but there's a notable exception, Tal Kopan reports: Northern California, where state law and many cities discourage law enforcement cooperation with federal immigration authorities.
Sound bite
What's a city to do with unexpected riches? We break down the fight over spending a $181 million property-tax windfall. Will it go to homeless programs? Teachers? Maybe buying up some of Pacific Gas and Electric Co.'s power lines? City Hall reporters Trisha Thadani and Dominic Fracassa go through the politics of it all on a City Insider podcast.
The Trump turnout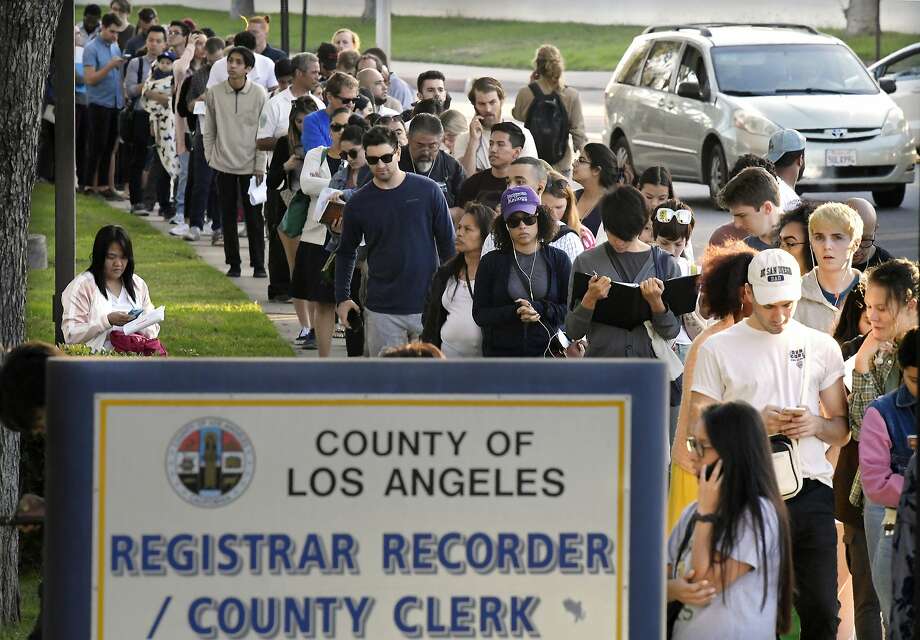 Photo: Mark J. Terrill / Associated Press
People wait in long lines to register and vote at the Los Angeles County registrar's office in Los Angeles on Nov. 6.
Like him or not, President Trump gets people to the polls — even when he's not on the ballot.
The turnout of eligible adults in last month's California elections matched the highest in nearly five decades for a non-presidential year, the secretary of state's office says.
It's not that the state races this time were all that exciting — far from it. Elections for governor and U.S. senator were lopsided affairs, and only one initiative, to repeal a gas-tax increase, got much traction.
But the chance for voters to send a message about Trump, even through proxy elections such as those for the House, proved to be almost as strong an attraction for voters as the 2016 presidential election was. That election brought more voters to the California polls than any since 1984, save one — the 2008 vote in the midst of an economic crisis that resulted in Barack Obama's election.
After parsing all the numbers, the state reported that 50.45 percent of eligible adults voted last month in California. That tied 1982 for the highest turnout of eligible adults in a midterm year since 1970, when Ronald Reagan was running for a second term as governor.
No county was more engaged last month than Marin, the secretary of state reported. Turnout there was 72.8 percent of eligible adults, topping No. 2 Nevada County, where 70 percent of those eligible cast ballots.
Other Bay Area counties' totals: Napa, 61.8 percent; Sonoma, 61.2 percent; San Mateo, 57.1 percent; San Francisco, 56.4 percent; Contra Costa, 55.7 percent; Alameda, 53.9 percent; Santa Clara, 51.7 percent; and Solano, 50.4 percent.